"Blue Sky Cabins" is a unique, luxury experience.  We are away from the noise & lights of the city in a serene, country setting and are surrounded only by wildlife & the Absaroka/ Beartooth Mountain range!  The Beartooth Mountains are one of the highest elevation & most rugged areas in the lower 48 states, with 20 peaks over 12,000 feet in elevation!    From "Blue Sky Cabins" you can see the two tallest!  Granite Peak at 12,799 ft. & Mt. Wood at 12,661 ft.!    Elevation at "Blue Sky" is 5,500 Feet.
"Blue Sky Cabins" are a different type of cabin offering many special touches & amenities not normally found in your typical, rustic cabin.   How about a romantic whirlpool tub for 2 with a view of the mountains or an old fashioned copper soaking tub? Steam showers, heated floors, luxurious linens & towels, candles & more special treats are always provided for your peaceful retreat at "Blue Sky"! Honeymoon's and Anniversaries are our specialties!
At "Blue Sky" we believe in pampering our guests.  For that special occasion we will have a special surprise waiting for your arrival.  If you have a special request of your own, we will do our best to fulfill it….. Just fill us in on the details.  "Blue Sky" is an adult only escape which makes our cabins perfect for a quiet, romantic getaway for 2!  The cabins do not accommodate more than 2 people per cabin. (we cannot accommodate children or pets)
We are located on a quiet, country road, 19 miles from Red Lodge, Montana, (approx. 25 minutes), near the small community of Luther.We are also within 10 minutes of Roscoe & 20 minutes to Fishtail & approximately 40 minutes to The Tippet Rise Art Center.   There are two different roads you can take into Luther off of Highway # 78 to "Blue Sky".   One way takes you through Luther & is 6 miles of country road, or only 3 miles off highway #78, via Metcalf Road.  CHECK OUR DIRECTIONS AND MAP PAGE FOR MORE DETAILS AND NEAREST AIRPORTS,  DRIVING TIMES AND MORE.  The roads are very well maintained & travel is easy for any type of vehicle.  Billings, MT. is our nearest airport at 80 miles away or Yellowstone International Airport in Bozeman, MT. at 115 miles away.  Click on our directions page for more details.
We are near Yellowstone National Park, The amazing Beartooth Highway, Cody, Wyoming, Bozeman, Montana & many beautiful National forests & Recreation areas.
We are within minutes of East Rosebud Lake, West Rosebud and the Stillwater Canyons, The Yellowstone & Stillwater Rivers & many lakes for fishing, incredible hiking & backpacking trails, mountain biking, cross-country skiing & snow-shoeing.
Whether it's hiking, fishing and mountain biking in the Summer, snow shoeing and cross-country skiing in the Winter, or just relaxing on the porch to a beautiful mountain sunset, "Blue Sky Cabins" is the perfect vacation spot.
Check out our ACTIVITIES PAGE for more fun at "Blue Sky"!
Wondering about the weather?  Click on our FAQ'S page for more details.
To make a reservation, please click on the availability & reservations tab.  We need a 50% credit card deposit to reserve. Check-in is 4:00 pm. Check-out is 11:00 am.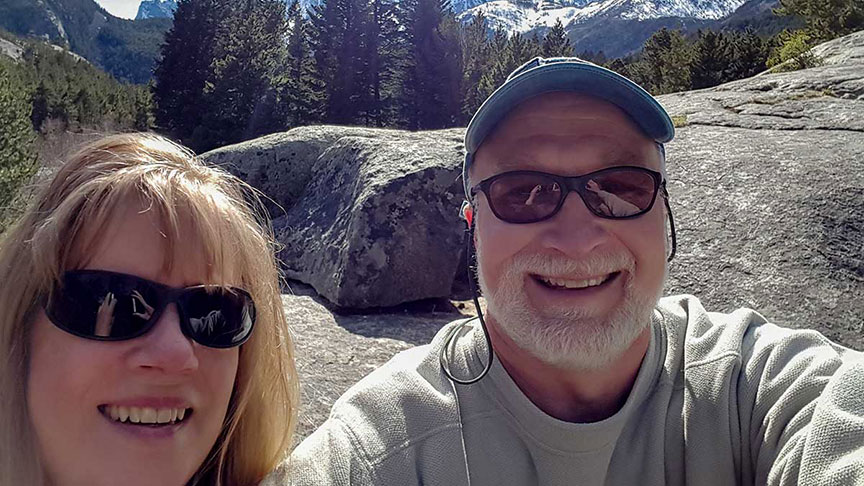 Montana Visitor Information
Yellowstone National Park
The Beartooth Highway